Bird Art 

Galleries
I have been privileged to be invited to be a regular exhibitor at two galleries in East Anglia, Brett Gallery in Monks Eleigh and Hemingstone Frames within the Stonham Barns Complex.  Each has opened up new opportunites for me to display my work on an ongoing basis. in addition to continuing to enter my art in my an ever expanding Exhibition calendar.
Brett Gallery       Since July 2015 with an ever changing selection of originals and prints   
                                          Bridge Farm Barns, Monks Eleigh, Suffolk IP7 7AY Tel 01449 740465
Win Gage, the owner of Brett Gallery, invited me to meet her advisor when she fist set up the Gallery and I must admit, despite over 25 years experience at the time, I found an outsider's critical eye a little daunting at first.  I came away with some good advice however and was delighted to know that I had actually been selected to be one of the inaugural local contribitors.  As they say, the rest is history with me still being there over two years later, changing my originals as they sell, mixing them with a selection of limited edition, framed prints and keeping a wide range of mounted prints in stock too.  This gives the buyer a chance to take away a mounted print and choose their own frame.   If an original does not appeal to someone within a sensible time, I aim to replace it with a different painting.  I'm pleased to say this has not been necessary very often!  Win keeps in touch with me on sales and she or her staff often ring to ask for a bespoke requirement, whether it is a commission, a change of frame design or simply providing a new combination of paintings to accomodate the admirer's personal circumstances.  
I have shown a few photographs below to give a feel of the Gallery but nothing can replace going along to see the paintings in a real life setting.  The Gallery is on the site of Corncraft, the long established tea rooms as well as a collection of unique, independent retail businesses, each offering the visitor an unparalleled selection of distinctive products and good service. And a lovely cup of tea too!                                                                 
                                                                                                       Brett Gallery, Monks Eleigh, Suffolk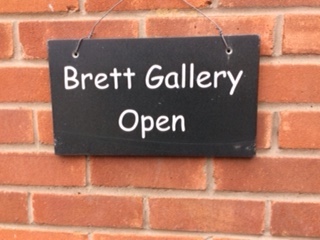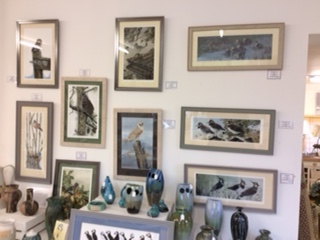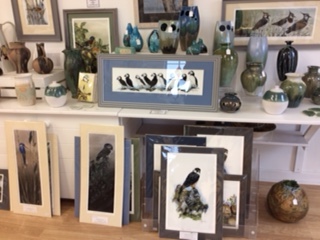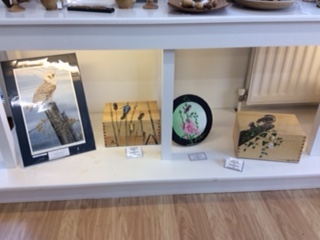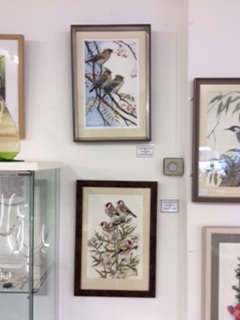 A few other images of other artists' work ....................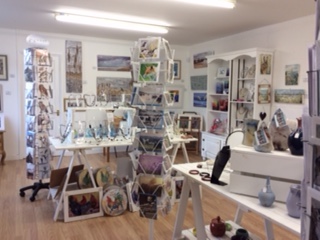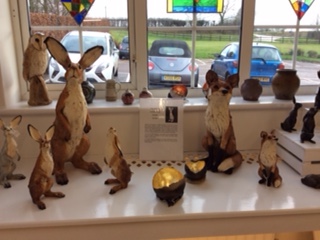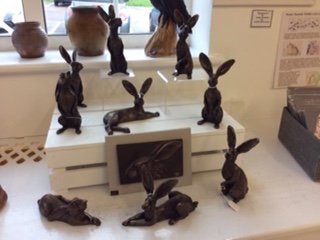 Hemingstone Frames, Stonham Barns     Since October 2017 with a wide selection of
                                               mounted prints, with framer to hand!   
                                                                                         Pettaugh Road, Stonham Aspel, Suffolk IP14 6AT. Telephone 07375 699914                                                                    
As my art has progressed I have joined two local groups, Suffolk and Bury Art Societies.  Although I am unable to attend many meetings due to time pressures of this am my veterinary job, I am becoming an active contributor to Exhibitions at both.  It was through the Suffolk Society that the proprietor of Hemingstone Frames, David Patrick, approached me to join other local Artists in his new venture.  Within the popular Stonham Barns attraction, he was setting up his framing business.  His concept is to invite artists to display a selection of originals and provide a wider range of high quality prints so that a visitor who might want to buy a mounted print could use one of his many frame designs.  Opened in the latter part of 2017 his reputation is growing and he is poised to become well establised by the following summer.  Within the first two chilly winter months, four of my prints sold and I understand he is very pleased with progress.
                                                                                                Hemingstone Frames, Stonham Barns
My photographs from inside Hemingstone Frames .........................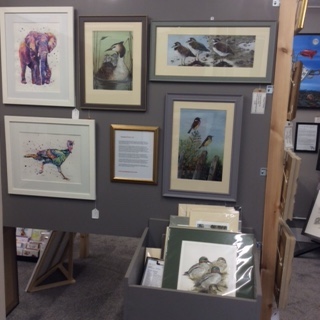 Dedham Art and Crafts Centre            From October 2018.  Originals, Framed and Mounted Prints
                                                                                                           High Street, Dedham, Nr Colchester, Essex  CO7 6AD.  Telephone  01206 322666
My latest venture into the gallery world, Dedham, Constable Country on the North Essex, Suffolk border.  Probably this picturesque village is best known for its connection to John Contable and his art.  Most will know that he is famous for capturing the beauty around Flatford Mill, East Bergholt and Dedham Vale.  His landscapes have become world renown over the centuries and, although he did not paint birds, it seemed an apt location to exhibit my work.  The centre is well worth a visit for its variety of craft and art exhibits and the village offers a quaint English setting with cream teas and boating along the River Stour.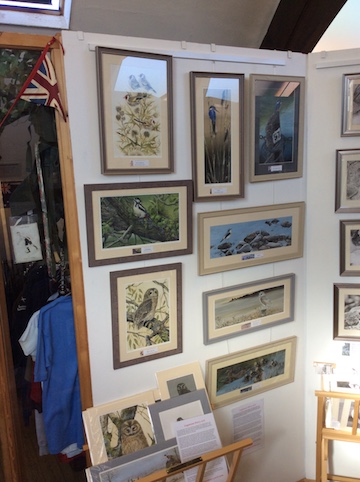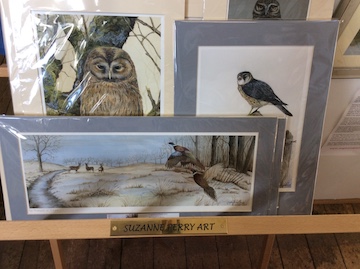 Long Acre Studios, from October 2019.  Originals, Framed and Mounted Prints 
Long Acre, Bingham, Nottingham, NG13 8BG  Tel 01949 839601
For many years Jan and Sally produced commercial art, design and photography.  In early 2014 they opened the gallery, supporting arts and crafts from the UK and especially East Midlands artists and also specialising in in-house creative picture mounting and framing services.
Various exhibitions are held throughout the year and the Studios also host several workshops, with visiting artists instructing and inspiring the participants, who also enjoy a two course lunch to complete a day out.
Artists & makers featured include Sam Toft, Jeff Childs, Paul Hainsworth, Nikki McKay, Tracy Savage, Marie Brown, Leigh Shepherd, Stuart Akroyd, Carol Banks, Nick Tearle, Anna Schofield, Tim O'Brien, Jennifer Higgins, 
Lou Page & Oliver Lovley.